For the latest list of specifications and required software download, please visit the FxFactory information page at NOISEINDUSTRIES.COM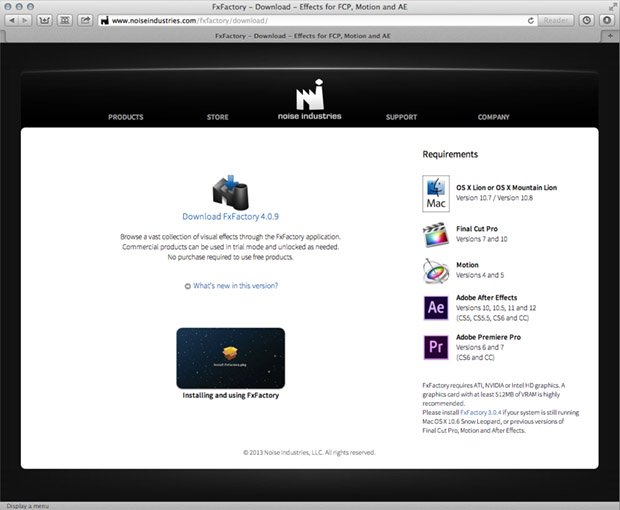 Noise Industries web site
General Requirements.
OS X Lion or OS X Mountain Lion - Version 10.7 / Version 10.8
Final Cut Pro - Versions 7 and 10
Motion - Versions 4 and 5
Adobe After Effects - Versions 10, 10.5, 11 and 12 (CS5, CS5.5, CS6 and CC)
Adobe Premiere Pro - Versions 6 and 7 (CS6 and CC)
FxFactory requires ATI, NVIDIA or Intel HD graphics. A graphics card with at least 512MB of VRAM is highly recommended.
Please install FxFactory 3.0.4 if your system is still running Mac OS X 10.6 Snow Leopard, or previous versions of Final Cut Pro, Motion and After Effects.
Check the product of your choice for Application support and individual requirements, or visit our Products page for detailed information.
Download and Try.
It is strongly recommended that you download and try our products to make sure that your system performs as expected, before you make a financial commitment.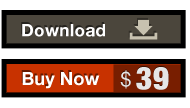 If you browse the detailed information of our products, you will find the option to download or buy the product.
If you have not decided to buy and would like to try the product, please click on the "Download" button and try the full functionality of the product protected with a simple watermark.
Once you buy or register the product, the watermark should disappear and any work you performed using the trial version will be watermark-free and ready for final render.
The new FxFactory interface.
If you have the latest FxFactory installed (4.0.3 and later), you should be able to browse and purchase our products from within the application.
You are able to register your product, enable or disable, and download newly released products into your system right within the Fxfactory interface.